Back to blog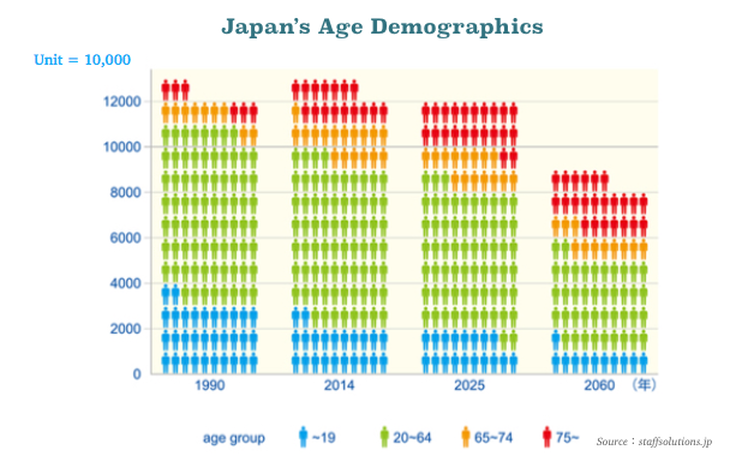 Japan Labor shortage scheduled to double 
by the year 2025
November 16, 2018
As a result of its declining birth rate and aging population, Japan is now facing the rapid fall of its active population. Despite new visa regulations aiming to welcome an extra 340,000 foreign workers by 2024, Japan's labor shortage is still expected to double within the next 6 years, which is a cause for concern to many companies.
In 2018, over 86% of Japan based companies already expressed great difficulties to identify qualified candidates for their company (comparing to a global average rate of around 40%). HR professionals are feeling growing pressure as they continue to struggle to meet their hiring goals year after year; they now have no choice but to get creative, innovate, and develop new skills to generate results and keep up with the rest of the world.
HR ROLE: PAST, PRESENT, AND FUTURE
Up until recently, Human Resources in Japan was still considered as a purely administrative function. HR professionals were there to process contracts, store employee records, and occasionally, solve some conflicts between employees and managers.
Today, the Japan HR profession is slowly evolving and shifting towards the role and responsibilities of an "HRBP" (HR Business Partner); Although this term has been widely used overseas for the past decade, it remains a relatively new concept here in Japan with 72% of HR professionals admitting not being familiar with the notion of "Business Partner".
With the global competition rising and the growing challenges to recruit top talent, it is important for HR to adapt, acquire new skills, and change their mind-set to add efficiency into their process.
Here are 4 key competencies your HR team should focus on developing:
BUSINESS ACUMEN:
To have a seat at "the table" with the business leadership and to be involved in the business strategy discussions, HR must build a deep understanding of their business and services. This will help them establish credibility among the other managers, understand their needs better, and provide them with more relevant guidance. The development of their business acumen will also impact their ability to influence the leadership team.
SALES & COMMUNICATION SKILLS:
HR people are usually the very first people candidates meet during the interview process; they are an extension of your corporate brand and create your candidate's first impression. To make sure all candidates come back inspired and motivated to return for a second interview, we recommend you to invite your HR to join your sales training programs to help them develop their communication, negotiation, and influential skills.
Invite them also to get out of the office to attend networking events and seminars so that they can engage with other professionals and learn from market's best practices. Would you believe that in 2018, over 70% of HR professionals had less than 5 HR contacts in their entire professional network?
The difference between a good professional and a great leader is the ability to communicate and inspire others. Your HR team doesn't have to be just the symbol of "rules" and "policies"; it should instead be the voice of your organization's culture. It should be a source of inspiration!
BRANDING EXPERTISE:
Facebook, LinkedIn, Instagram, social media is everywhere and companies are using those channels more and more to promote their opportunities and brand themselves as an employer of choice. In Japan, 80% of job seekers check companies' career website and job listings before they apply for a role (regardless of whether they apply directly online or via a Recruiting agency). Your online content matters so, whether they like it or not, your HR team should start learning about the power of social media and how it can be used to help you attract great talent into your organization.
EMBRACE TECHNOLOGY TO DRIVE EFFICIENCY:
Because we live in a world that is changing both rapidly and constantly, it has become essential to be agile and adaptable. As much as HR in Japan has tried to hold on to their paper, spreadsheets, and emails for many years, now is the time for them to embrace "change" and make full use of the latest HR technologies available in the market.
Your HR's ability to remove friction and add speed into your Recruiting process will play a critical role in the competitiveness and success of your business in Japan.
Written by Fabien BROGARD CIPRIANI
Founder & CEO at Hireplanner.com
Illustration source: https://staffsolution.jp/decreasing-of-labor-force