Back to blog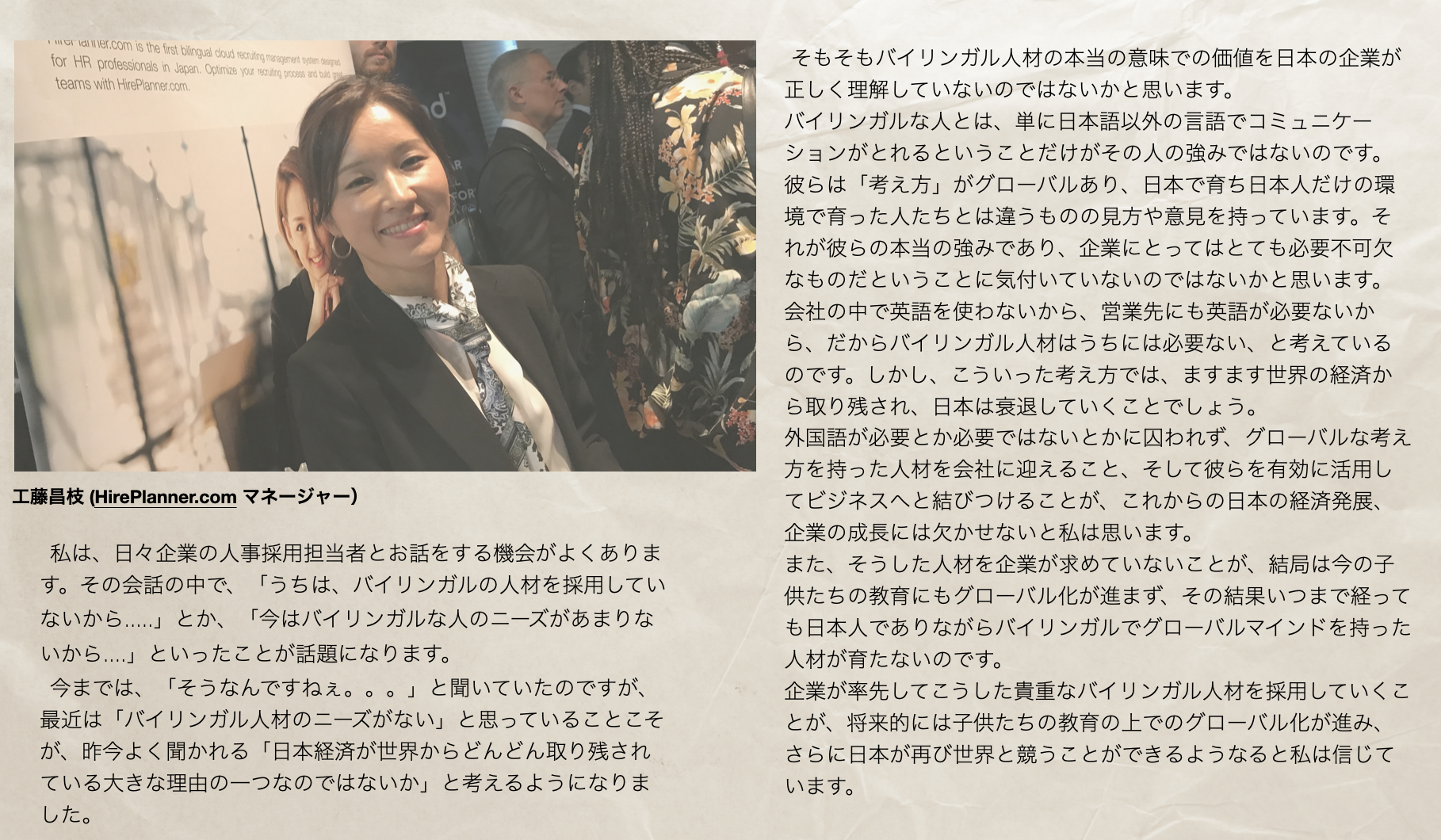 Why Do Japanese Companies Need More Bilingual Talent?
November 9, 2020
(Automated English Translation)
Due to the nature of my job, I talk to corporate HR recruiters on a regular basis. When we discuss their hiring strategy, they often mention that "We are not hiring bilingual personnel …" or "There are not many needs for bilingual people at the moment …".  Up until now, I was like "okay, I understand…" but recently, I started wondering why companies thought they did not need bilingual professionals… and, could this be the reason why the Japanese economy has been falling behind more and more comparing to the rest of the world?
My impression is that Japanese companies do not correctly understand the true meaning and value of "bilingual" professionals.
A bilingual person is so much more than a person who can speak a different language (other than Japanese). Most of them have acquired a global "thinking" and "Mindset" that offers very different perspectives and opinions comparing to those who grew up only in Japan or who grew up in a Japanese-only environment. This skill alone can offer tremendous advantages for any business. Unfortunately, it seems that most Japanese companies are still unaware of what is needed to become a global player in the future.
"We don't need bilingual people because we don't use English in our company or with our customers" HR people often say.
It is exactly because of this kind of thinking and lack of vision that Japan's economy continues to fall behind comparing to other nations that are more diverse and that can embrace change and innovation. I am afraid that without a drastic change in our thinking process, Japan's economy will continue to decline.
The fact that companies are not actively looking for bilingual talent is directly linked to the lack of globalization in the Japanese education system today, where our children risk to receive an education that is already outdated and that lacks many of the key ingredients to build a global mindset.
To build a Japan that's economically strong, I believe it is critical for corporations to start hiring more professionals that possess a creative, innovative and global mindset (wether they speak a foreign language or not is beside the point). Subsequently, once more companies express the needs for more international talent, universities and education systems will be encouraged to innovate and promote the globalization of children's education and allow Japan to compete with the world again.
KUDO Masae(HirePlanner.com)