Back to blog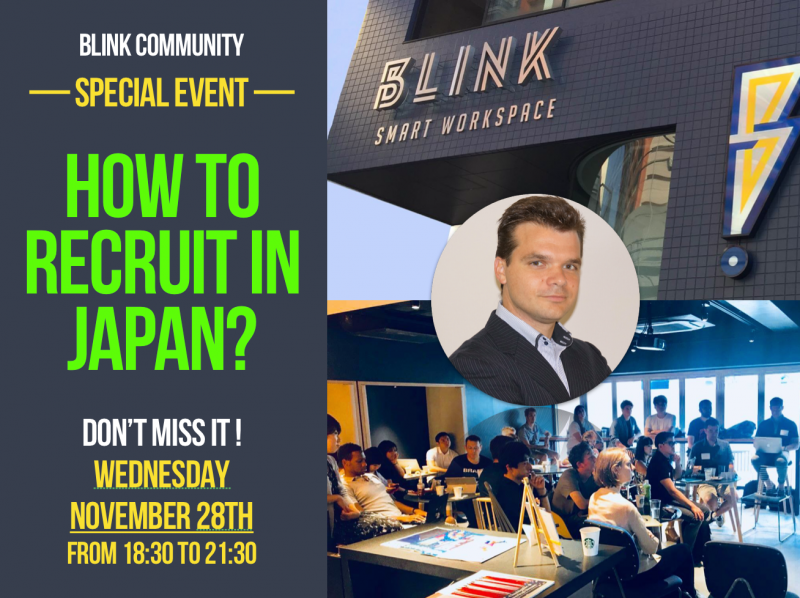 HR Event – How to recruit successfully in Japan?
November 28, 2018
After Blink Smart Workspace and Workforce organized the first Startup Pitch for recruitment in Roppongi, we received many requests from companies to organize more events on this topic so they could learn more about how to hire great people in Japan.
With the unemployment rate at an all-time low, companies are in a fierce competition to find and attract the right candidates. For both start-ups and multinational companies, the challenge is even greater as the pool of eligible talent gets narrower… Traditional recruiting as we know it is "History" and business leaders are now required to get creative and more involved in building a robust recruiting strategy with their HR.
# Speaker
For our next event, Fabien BROGARD CIPRIANI, former head of recruiting at Apple and Tesla Motors in Japan, and now CEO of HirePlanner.com(*) will provide his analysis on the changes facing the recruiting market in Japan and the strategies companies should adopt to attract great talent and grow their business successfully in Japan.
(*) HirePlanner.com is a cloud recruitment platform designed to help companies hire top talent in Japan.
– www.hireplanner.com
# Schedule
– Doors open and networking 18:30 – 19:00
– Introduction 19:15 – 19:30
– Guest speaker 1, 19:30 – 20:15
(20 min lecture and 10 min Q&A)
– Networking and talking to the companies until 21:30
# Pricing
Includes light food and drinks
– 1,000 Yen for early birds to the limited number of tickets
– 2,000 Yen at the door
Buy tickets or register below, we prefer everyone get the ticket form the online
Buy tickets or register below
https://getworkforce.io/event/how-to-recruiting-successfully-in-japan/