Back to blog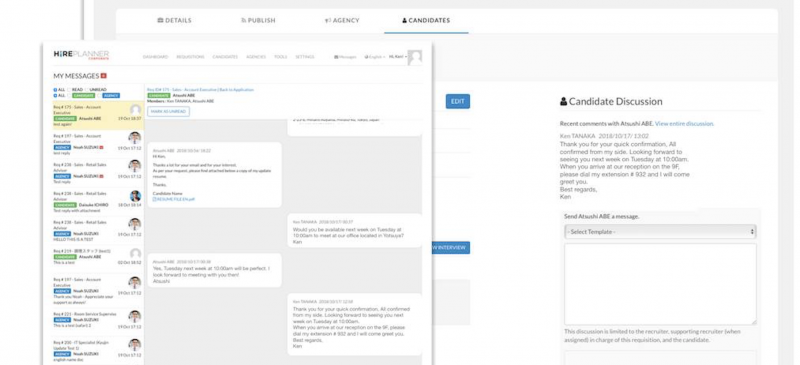 HirePlanner launches new candidate & agency messenger inbox
November 1, 2018
HirePlanner is excited to announce the launch of its brand new candidate and agency consultant messenger inbox! This one is another labor of love designed to help HR professionals and corporate recruiters out there in Japan to:
– Streamline & organize their communications with both candidates & recruiting agencies.
– Stay on top of their projects with alerts and email notifications.
– Be more responsive with customizable email templates.
– Share attachments, resumes, offer contracts and much more…
Launch date of our beta version is scheduled for the week of November 5th 2018. We hope you like it!
New Email Templates
We have also integrated the messenger tool with your email templates. You can now communicate more easily, save time and use email templates when following up with them during the interview process. This has been a popular request from many of you and we are excited to release it today!
Drag & Drop Attachments
The Messenger system has also been upgraded with the new "drag & drop" function allowing you to easily attach and share documents when chatting with agency consultants or candidates who applied directly from your website.
(see screenshot attached below for your reference)