Back to blog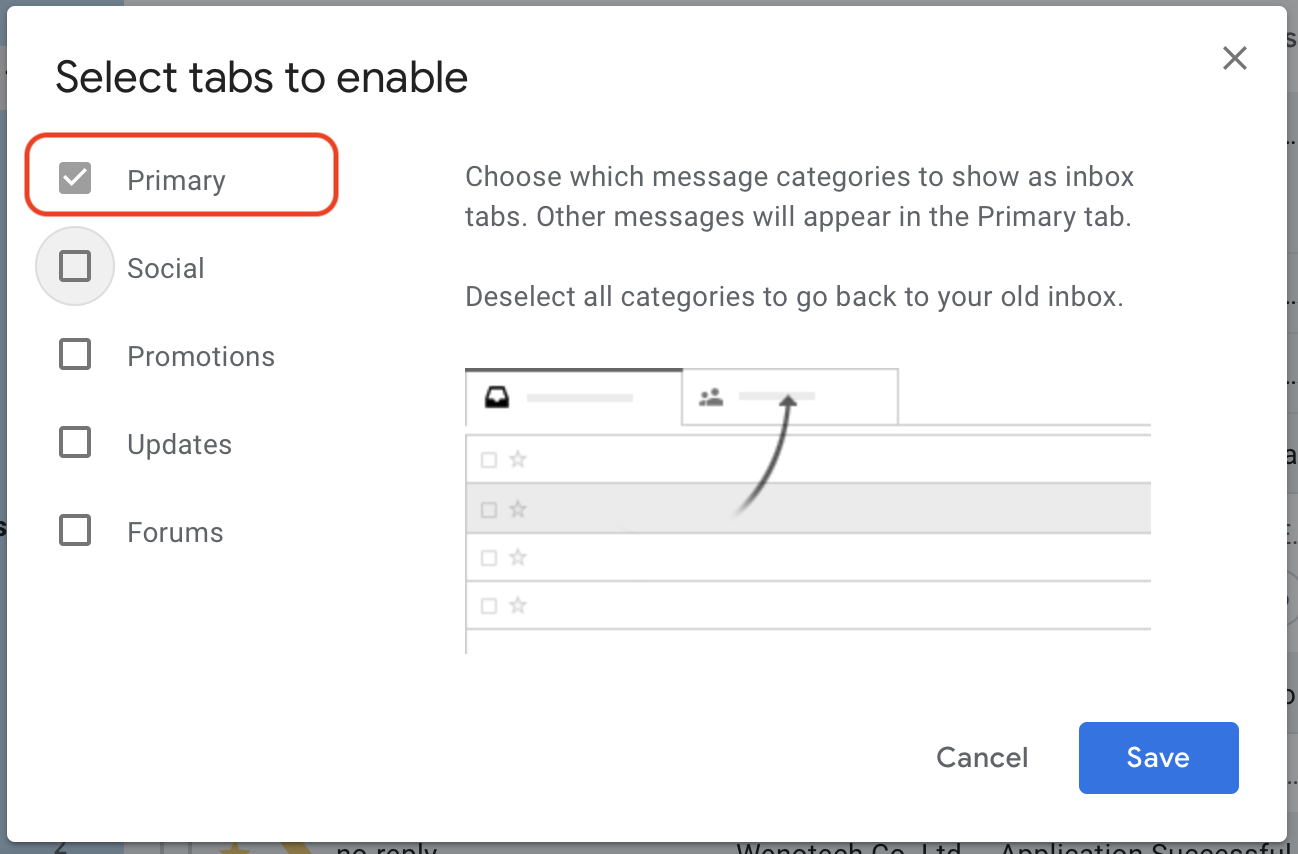 For Gmail Users: How to stop emails from going into your "Promotions" tab or "Spam" Folder?
March 13, 2020
After Gmail introduced its 3 types of inboxes (Primary, Social and Promotions) and started automatically filtering and  organizing emails for their Gmail users, a growing number of people have expressed concerns about potentially missing some important emails sent by HR professionals from companies they had applied for.
Although this does not happen often, we thought this was important to address and to remind all candidates out there who are using a Gmail or G Suite account how important it is for them to check carefully each one of your inbox tabs (PRIMARY, SOCIAL and/or PROMOTIONS) just in case Google's AI may have automatically filtered some of your incoming emails (more details below).

At HirePlanner, we understand how important it is for job seekers to receive timely feedback and updates regarding the status of their job application(s). Many companies hiring in Japan use our HR Recruiting System to communicate with their candidates more efficiently; it helps them to keep track of their past communications, share interview feedback rapidly and improve their overall candidate experience.
IF, FOR SOME STRANGE REASON, YOU DON'T RECEIVE ANY RESPONSE OR UPDATE FROM HR AFTER APPLYING ONLINE OR RESPONDING TO THEIR LAST MESSAGES, PLEASE REMEMBER TO TAKE ONE OR SEVERAL OF THE FOLLOWING ACTIONS:
---

1) CHECK YOUR "

SPAM

" FOLDER
If you find an email in the "Spam" folder, please remember to mark it as "Not Spam" so that it will be delivered in your main inbox next time.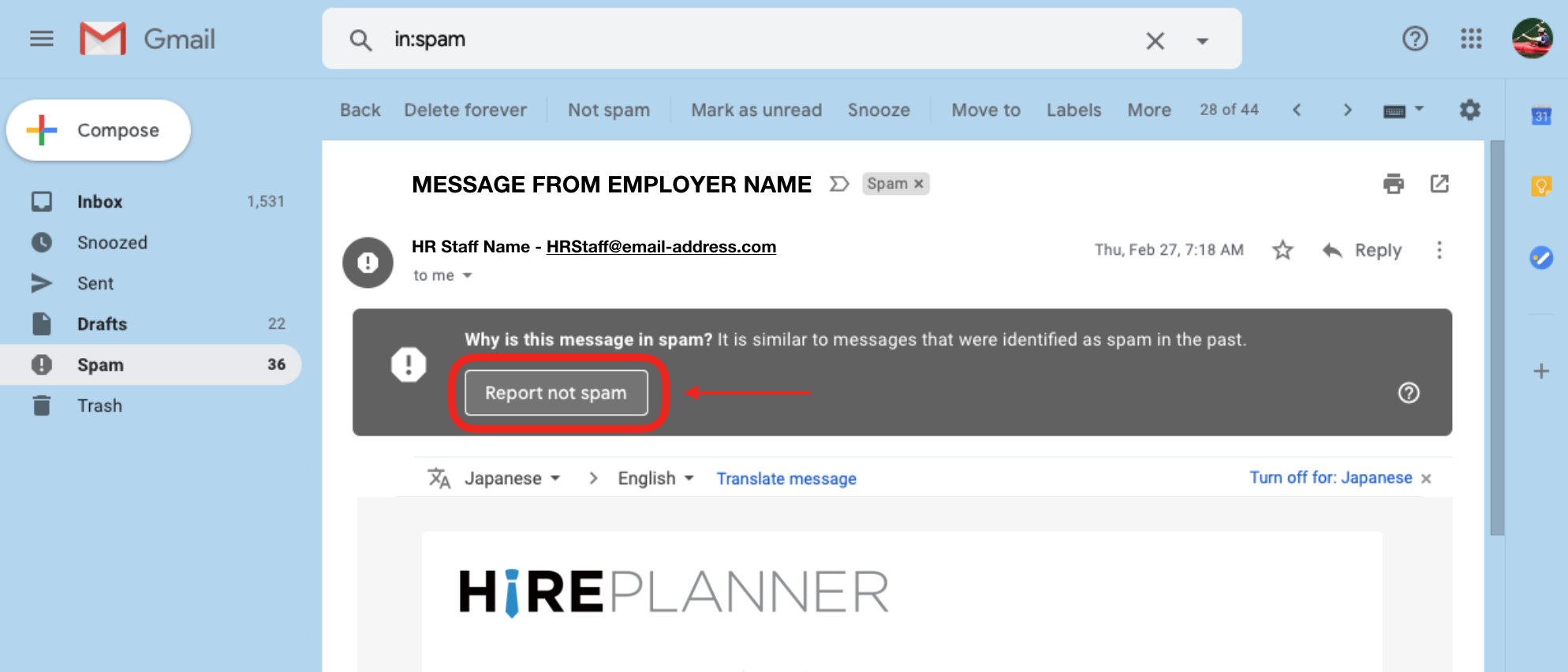 ---
2) CHECK YOUR "

PROMOTIONS

" OR "

SOCIAL

" TABS
Originally, Gmail introduced its multiple inbox tabs (Primary, Promotions and Social tabs) with the intention to help improve deliverability and response rate, and to decrease spam complaints. Those tabs are basically designed to act as additional inboxes and Google Gmail delivers your emails to these tabs based on an algorithms that is constantly updated and which takes into account all sorts of data such as:
– Sender information,
– Email content,
– Recipient engagement and much more…
Although relying on Gmail to automatically filter your incoming emails has its advantages, it can also have its down side as it now becomes possible for you to miss some emails from potential employers that may have been misplaced in the "PROMOTIONS" or "SOCIAL" tabs instead of the "PRIMARY" inbox.
For this reason, it's important for you to check regularly those tabs as well especially if you are expecting an update from potential employers and their HR recruiting team.
If you receive a message in the "PROMOTIONS" or "SOCIAL" tab, and if you prefer to have it delivered in the main inbox (PRIMARY TAB) instead, please take the following actions:
Drag the message from the PROMOTIONS tab and drop it into the PRIMARY tab. By doing so, all future emails from this contact will be delivered to the PRIMARY tab and you will reduce the risk of missing future communications.

– 

CREATE A FILTER (RULE)
a) Select and open the email in the "PROMOTIONS" tab
b) Click on the three (3) vertical dots located on the top right side of the email message (see screenshot below).

c) Click on "Filter on messages like this" on the drop down menu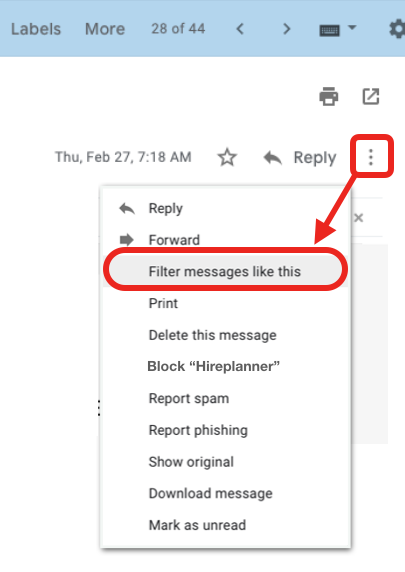 d) Select "Never send it to Spam"
e) Select "Categorize as: PRIMARY"
f) CREATE and SAVE your filter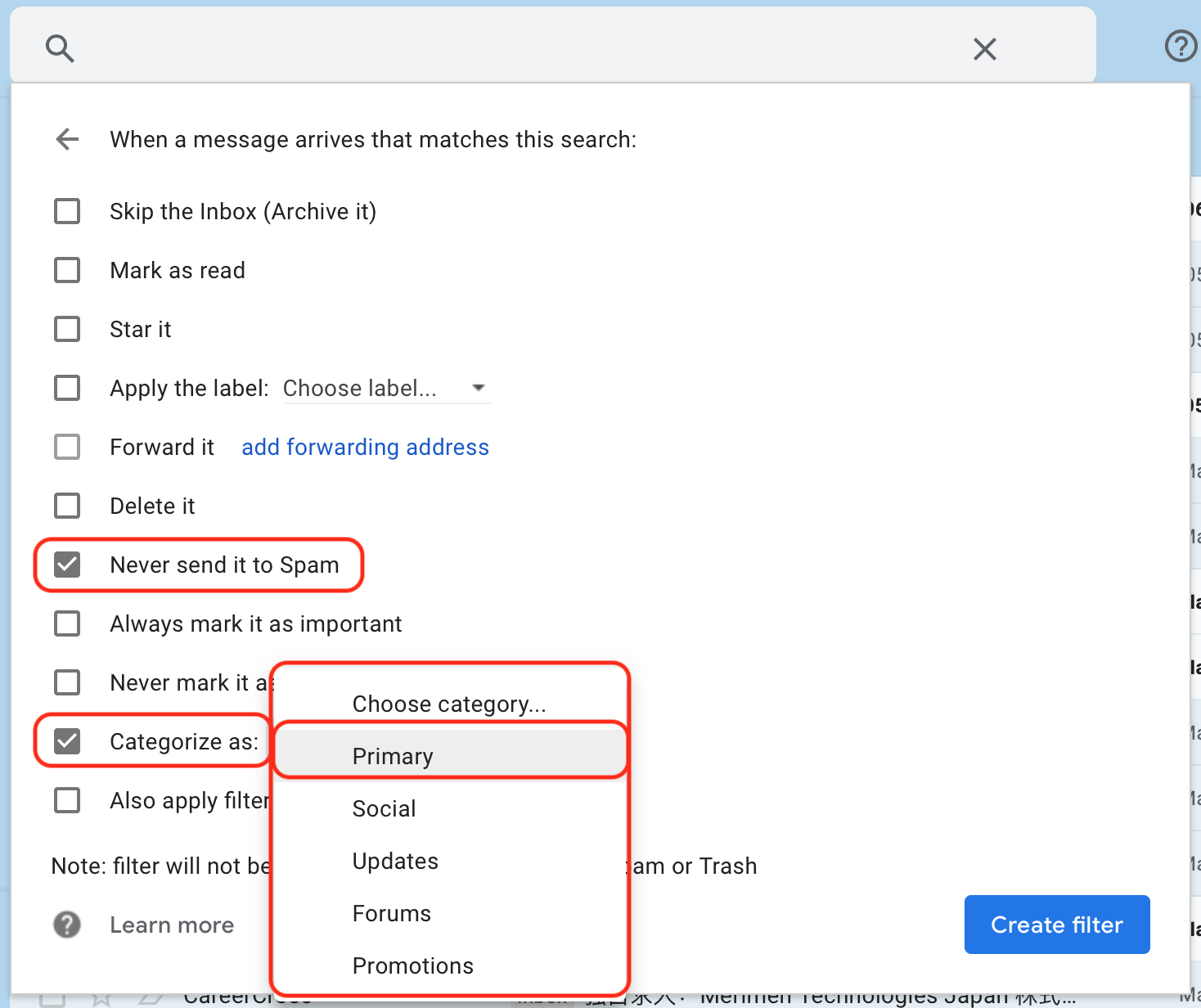 ---
3) ADD SENDER TO YOUR CONTACT LIST
a) Place your mouse over the name of the sender
b) Click on "Add to Contacts" and add your HR point of contact into your contact list to make sure all future mails are delivered properly into your Inbox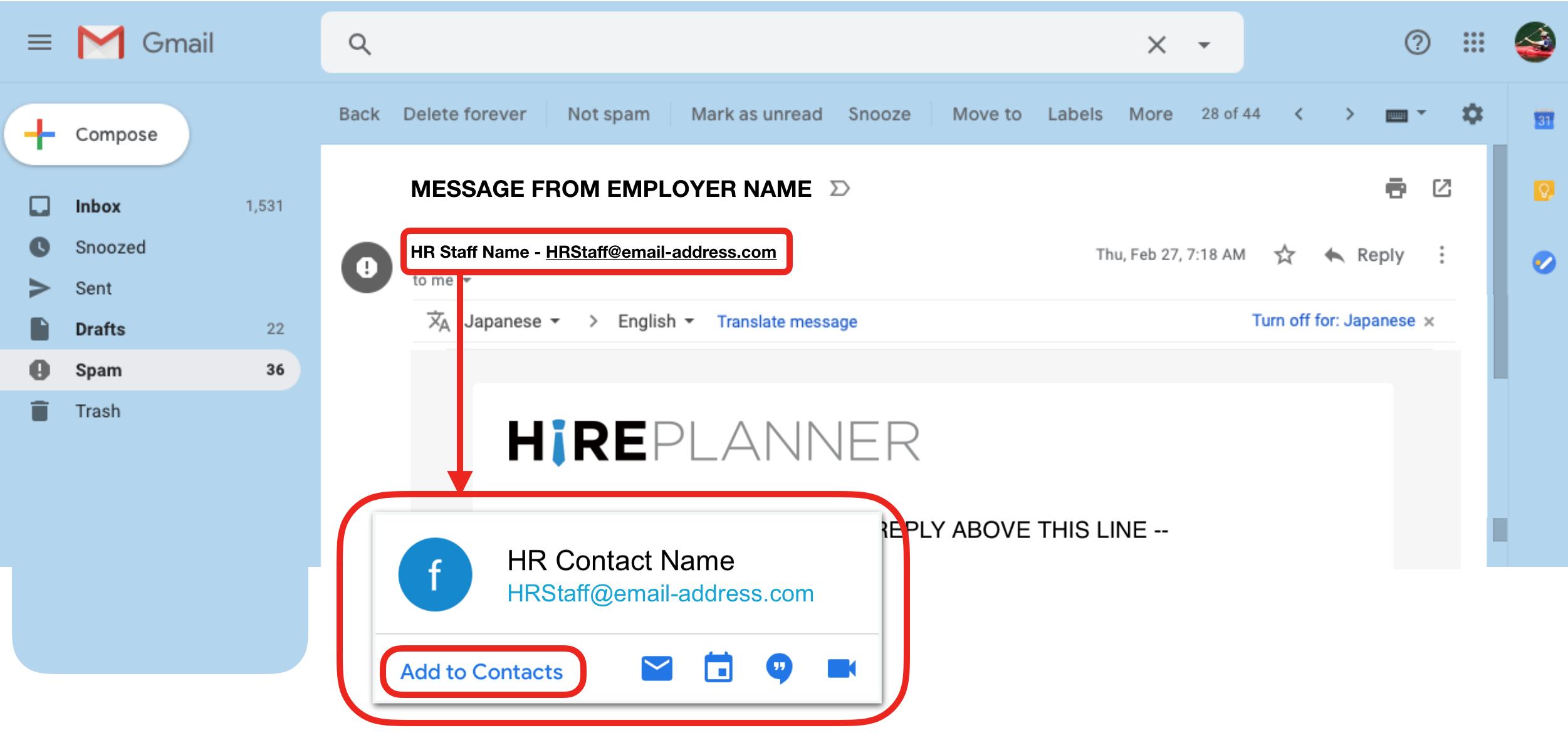 ---
4 ) DISABLE "PROMOTIONS" and "SOCIAL" TABS
Just in case you prefer Google Gmail not to filter emails for you automatically, you may choose to disable them and choose a more traditional inbox where all emails are delivered into one place only.
a) From your main inbox, click on the "Settings" gear icon and select "CONFIGURE INBOX" from the drop-down.

b) Uncheck all the boxes next to PROMOTIONS and any other undesired tabs to remove them from your inbox. Make sure to ONLY check the box next to "PRIMARY" so that all your emails are delivered to your PRIMARY inbox.