Back to blog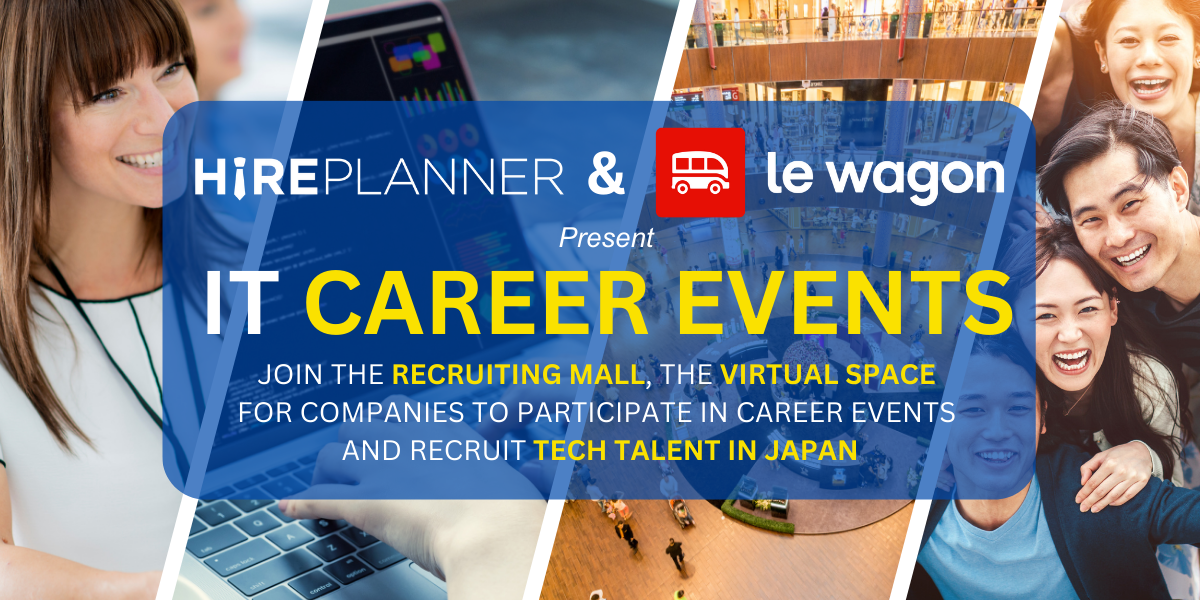 CAREER EVENTS FOR IT JOBS IN JAPAN
March 21, 2023
HirePlanner.com and Le Wagon Tokyo join forces to host Online Career Events for IT & Tech Professionals in Japan
[Tokyo, Japan – March 22, 2023] – HirePlanner.com, a go to website (job board) for job seekers in Japan, is proud to announce that it will be partnering with Le Wagon Tokyo, the leading coding bootcamp program in Japan, to organize its 8th online career event aimed this time at helping IT & tech talent and professionals find career opportunities and jobs in Japan.
As part of HirePlanner's Recruiting Mall service, this online job fair will be the first of its IT & Tech series. It will take place on April 20th, 2023 (Thursday), and will be targeting IT engineers and Technology professionals of all experience levels (both Junior and Senior) looking for jobs in Japan.
This virtual career event will provide IT professionals with a distinctive, engaging, and fully interactive experience. Attendees will have the opportunity to network with a wide range of companies currently recruiting in Japan, connect with their hiring representatives, and gain insights into the corporate culture of each employer. By providing a platform to connect and engage with potential employers or career coaches, this event aims to empower job seekers to make informed career decisions and take the next step in their professional journey with more confidence.
"We are thrilled to collaborate with Le Wagon Tokyo to help connect job seekers with top employers in Japan" said Fabien BROGARD CIPRIANI, Founder and CEO of HirePlanner.com. "Our platform has helped thousands of job seekers find their dream jobs, and we believe this event will be a great opportunity for IT professionals to explore new career paths and connect with like-minded professionals."
Le Wagon Tokyo, known for its intensive coding bootcamps, has a strong network of alumni and partners in the tech industry. "Our mission is to empower people to learn and thrive in the tech industry," said Sylvain Pierre, Founder and General Manager of Le Wagon Tokyo. "We are excited to team up with HirePlanner.com to help job seekers navigate the IT job market and find their next career opportunity."
The Recruiting Mall's IT & Tech Career events are free to attend and open to anyone interested in the tech industry and in jobs such as:
– Software Developer / Engineer
– Web Developer / App Developer
– IT Consultant / Project Manager
– Artificial Intelligence (AI) Engineer
– Data Analyst / Scientist
– Network Administrator / Engineer
– IT Support / IT Engineer
– Cybersecurity Analyst
– UX / UI Designer
– Cloud Architect
– Dev Ops Engineer
– Database Administrator
– Quality Assurance (QA) Analyst
REGISTRATION: Job seekers can register for the event at the link below:
https://recruiting-mall-tech-jobs-career-event-1.peatix.com/
---
ABOUT HIREPLANNER.COM
HirePlanner.com (HR Tech) is an innovative SaaS Recruiting Advertising and Employer Branding platform designed to help companies attract top talent in Japan by boosting their visibility, improving their candidate engagement while also reducing their average cost per hire.
It provides a wide range of services such as Job Posting Advertising, Application tracking (ATS), Agency Vendors Management, Online Career Events organization, Employer Branding Video Production and more… HirePlanner.com's HR Tech solutions are available in both English and Japanese and include all essential features needed to recruit efficiently in Japan.
Websites:
– Job Site: http://www.hireplanner.com
– Career Events: http://hireplannerevents.com/

ABOUT LE WAGON TOKYO
Le Wagon is a world-leading coding bootcamp now celebrating over 20,000 alumni on 5 continents and 45 cities. Founded in Paris, France in 2013, Le Wagon has quickly become the most acclaimed coding bootcamp around the world.
In Japan, Le Wagon launched its first Web Development program in 2016, followed by its Data Science one in 2021 – both programs are now offered in full-time and part-time formats. It has trained over 600 students over the past 6 years, with graduates landing jobs as web developers, data scientists, product managers or designers at top Japanese tech companies. Le Wagon Tokyo is also one of the biggest international tech event organizers with over 350 events since 2016, and a large community of 7,500 people.
Website: https://www.lewagon.com/tokyo