Back to blog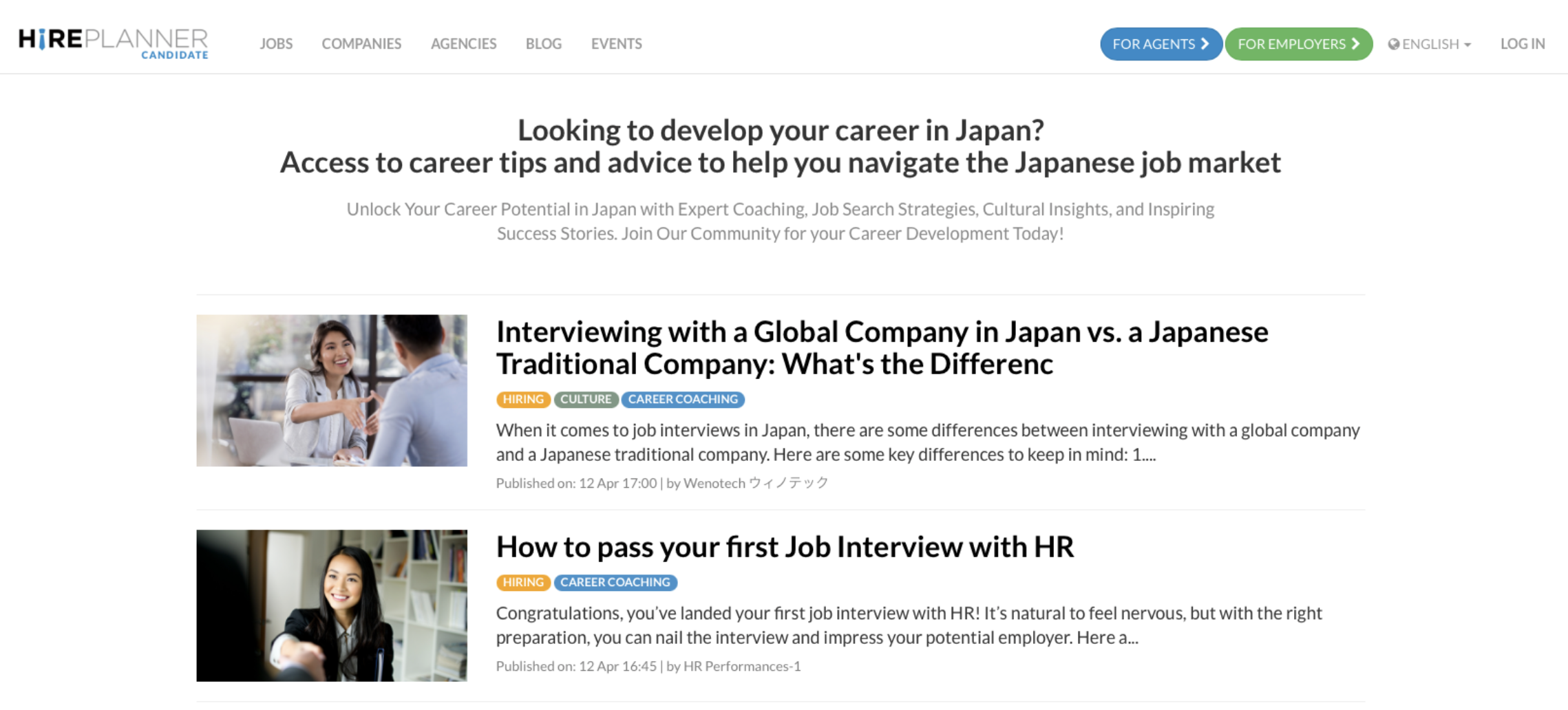 HirePlanner.com Releases New Employer Branding "Blog" Designed For Companies Recruiting in Japan
April 12, 2023
At HirePlanner.com, we understand the importance of Employer Branding and the impact quality content can have on an organization's ability to attract top talent in Japan.
As part of our ongoing efforts to help businesses promote more efficiently their brand, corporate culture and career opportunities, we are proud to announce the launch of our new HirePlanner Blog.
Integrated within the HirePlanner.com's job site, this new feature was created for organizations to communicate and promote their initiatives more easily to professionals seeking new career opportunities in Japan.
The HirePlanner blog offers companies hiring in Japan with a new way to:
a) publish and share their employer branding content (e.g.: news, events, stories, research etc.),
b) showcase their vision, diversity and inclusion initiatives and
c) highlight their commitment to sustainability.
Subsequently, this can help enhance their reputation as an employer of choice and more effectively attract top talent and professionals seeking jobs in Japan.
By communicating and sharing their values and initiatives on HirePlanner, companies can not only increase their visibility but also build a stronger connection among job seekers who are looking for companies with strong values and a positive culture, making them more likely to apply for their job(s).
---
ABOUT HIREPLANNER.COM
HirePlanner.com (HR Tech) is an innovative SaaS Recruiting Advertising and Employer Branding platform designed to help companies attract top talent in Japan by boosting their visibility, improving their candidate engagement while also reducing their average cost per hire.
It provides a wide range of services such as Job Posting Advertising, Application tracking (ATS), Agency Vendors Management, Online Career Events organization, Employer Branding Video Production and more… HirePlanner.com's HR Tech solutions are available in both English and Japanese and include all essential features needed to recruit efficiently in Japan.
Websites:
– Job Site: http://www.hireplanner.com
– Career Events: http://hireplannerevents.com/